Supplier Membership Benefits
Gain direct access to hundreds of potential clients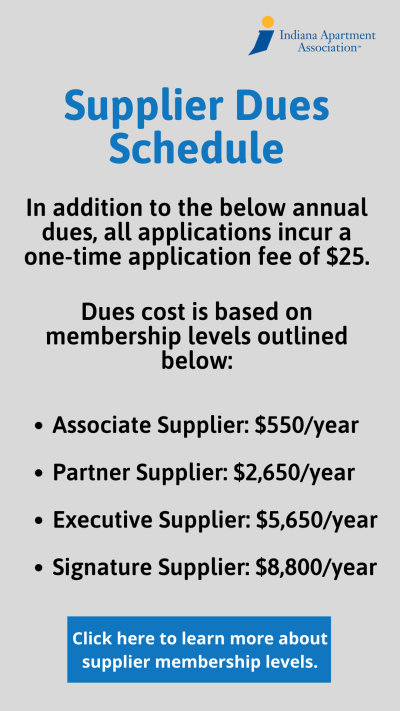 Membership in the Indiana Apartment Association includes membership in the National Apartment Association.

If your business plan includes expanding your revenue from the multifamily housing industry, you won't find a better investment than a supplier membership in the Indiana Apartment Association (IAA). The IAA is a trade organization that represents almost a quarter million residential units across Indiana and aggressively promotes the multifamily industry for the benefits of its growing membership.
Be sure to check out the Supplier Dues Schedule to find the level of membership that best fits your needs!

IAA supplier membership is extremely affordable and delivers an unmatched return on investment. There are five tiers of membership, which allows you to choose your level of benefits which give you the chance to:
Get Great Exposure

NETWORKING: As an IAA Supplier Member, you have direct access to key decision-makers at all levels (you will even have opportunities to speak/present your company) at events such as:
PAC Golf Classic
Maintenance Mania
Property Bus Tour
Industry Summit
And more!


Maximize Your Marketing Dollars

ADVERTISING & SPONSORSHIPS: Your supplier membership includes a wide range of opportunities to advertise your business to the multifamily industry. Sponsorships are available to supplier members to further extend your reach.


Boost Your Sales

MEMBERS BUY FROM MEMBERS: We have established a culture in which our members look to other IAA members/suppliers first when they need products and services. It's because IAA members know that other members can be trusted to deliver the highest quality products and services.


Stay Ahead of the Industry

TOOLS & RESOURCES: You'll stay current on industry developments, regulations, and trends through a variety of membership resources such as:
IAA and national publications
Access to searchable online member directory
Advertising in Public Buyers Guide
Online Career Center and member forum


Show Off!

Your membership gives you access to two annual trade shows you won't want to miss:
The Midwest Multifamily Conference: The largest multifamily event in the Midwest! You'll have the opportunity to promote yourself to over 3,500 industry professionals from a five-state area. You'll also be offered exclusive sponsorship opportunities to make an even bigger splash at the show.
The Reverse Trade Show: An incredible networking event where you will have the chance to meet directly with owners, management companies, and other key decision-makers from across the state.
---
Your Membership Includes:
Access to statewide IAA networking events
Listing in both the online and printed membership directory statewide
Use of the "Proud Member of the Indiana Apartment Association" logo
New Member listing in several industry publications
Weekly newsletters and other IAA publications

NAA Membership Benefits:
Government affairs and legislation dedicated to the Apartment Industry on the federal level.
NAA conferences and expositions designed to help you connect with apartment owners and developers.
Units Magazine and other NAA publications.
---
Invest in Your Success
Become an IAA Supplier Member Today
Take advantage of your growing industry – invest in an IAA Supplier Membership and instantly create new opportunities to take your business to the next level.
Still not convinced? Click here to see our top 3 member benefits.