2023 Property Bus Tour (Direct Members Only)
For Management Company Members & Sponsors Only
---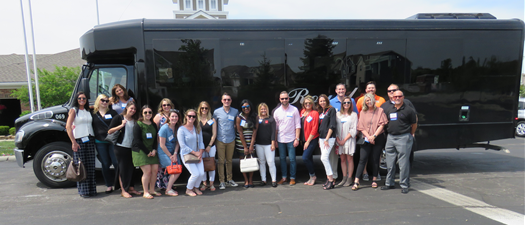 This event is for apartment owners and management companies and their employees only. All supplier members must be a sponsor in order to attend this event.
Don't miss out on this highly anticipated annual event! Register now for the 2023 Property Bus Tour on May 17. A variety of new construction, rehabilitated, and mixed-use properties will be featured.
This opportunity to spend time with multifamily professionals provides the perfect forum to acquaint yourself with several remarkable apartment communities in the Indianapolis market. While touring apartment models and clubhouses, attendees will see unique floor plans, discover new industry trends and amenities, obtain great ideas and enjoy a valuable networking opportunity! This event is exclusive to Management Companies and sponsors only.
Property stops include:
Parkside at Tarkington (Flaherty & Collins Properties)
Historic Marcy Village (Van Rooy Properties)
The Gallery (BAM Management LLC)
Greenview Apartments (Birge & Held Asset Management)
The Alinium of Zionsville (Birge & Held Asset Management)
Space is limited. Register today as this is always a sell out event!
Agenda
May 17
8:30 AM - 9:00 AM

Registration Begins


Meet in the IAA Training Room no later than 8:45 AM.
9:05 AM - 9:05 AM

Buses Depart


The busses will leave IAA promptly at 9:05 AM. Be sure to be on time!
12:00 PM - 1:30 PM

Lunch


Lunch will be provided to all attendees!
4:00 PM - 4:30 PM

Buses Arrive Back at IAA
Attendees (58)
Jennifer Ballou
Senior Property Manager
Saratoga Crossing Apt. Homes
Angie Best
Assistant Manager
The Lakes
Haley Brutus
Regional Sales Executive
Valet Living
Mary Carter
Major Account Executive
Hays + Sons Complete Restoration
Brooke Donelson
Director of Property Management
TWG Management
Maddie Easter
Property Manager
Willow Lake
Jennifer Edwards
Property Manager
Brownsburg Crossing
Rebecca Fending
Social Media Coordinator
Becovic Management Group of Indiana
Luke Flowers
Director of Technology
Iron Men Property Management
Julie Garner
Assistant Property Manager
Avon Creek Apartments
Lauren Gillespie
Leasing Consultant
Brownsburg Crossing
Kendra Godsey
Property Manager
Carmel Center Apartments
Wendy Grable
Property Manager
Avon Creek Apartments
Jennifer Harkcom
Assistant Manager
Willow Lake
Brady Honeas
Real Estate Manager
Ironworks at Keystone
Claire Hoover
Zillow Rentals
Derek Hoover
Zillow Rentals
Megan Hunt
Senior Regional Account Executive
GreenWay Waste & Recycling
Adam Jaquess
Service Manager
Maple Knoll
Jessica Jones
Property Manager
The Lakes
Katie Kincaid
Senior Property Accountant
Maple Knoll
Brandon King
Multi-Site Property Manager
Nolan Living
Chris Knight
5 Star Pest Solutions, LLC
Nancy Langdon
Vice President - National Commercial Account Manager
Near North Title Group
Phil Lucas
Regional Sales Manager
Chadwell Supply
Sydney Manning
Leasing Specialist
Saratoga Crossing Apt. Homes
Mike Marlow
Assistant Property Manager
Settlers Run
Sabrina Marshall
Property Manager
Settlers Run
Angie McClure
Assistant Property Manager
Saratoga Crossing Apt. Homes
Logan Miller
Assistant Manager
NTS Development Co
Matt Millikan
Maintenance Technician
Maple Knoll
Aaron Mitchell
Sales Representative
Valet Living
Charlie Olson
Regional Manager
TWG Management
Courtney Parnell
Leasing Associate
Lake Clearwater
Jackie Raeke
Property Manager
Anvil 38
Deborah Ramsey
Vice President
NTS Development Co
Hannah Reece
Marketing Coordinator
Becovic Management Group of Indiana
Ashley Reyburn
Property Manager
Lake Clearwater
Brock Roberts
Eye 4 Group
Souheir Salfity
Assistant Manager
Ironworks at Keystone
Mike Sandry
Co-Founder | Marketing & Operations
Iron Men Property Management
Victoria Schuman
National Account Manager
Chadwell Supply
Greg Scott
Owner
Drive Home Capital
Jordan Scott
Senior Property Manager
NTS Development Co
Nicole Scott
Principal
Drive Home Capital
Tara Sexton
GreenWay Waste & Recycling
Heather Shepherd
Leasing Consultant
Settlers Run
Kinsey Simmons
Property Manager
Nolan Living
Emily Skaife
Leasing Associate
Carmel Center Apartments
Cheri Steele
Regional Manager
Renewing Management
Anna Stone
Leasing Agent
Ironworks at Keystone
Jerry Torr
Near North Title Group
Amanda Warren
Vice President/Partner
Renewing Management
Mandy Williams
Senior Property Manager
Maple Knoll
Rob Wimborough
Leasing Consultant
Maple Knoll
Jamie Woodward
Director of Property Management
Iron Men Property Management
Amanda Woolley
Leasing Specialist
Avon Creek Apartments
Thank you to our sponsors: