CAM Certification
Certified Apartment Manager Certification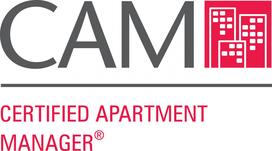 Earning a CAM designation allows mid-level staff to demonstrate that they have the knowledge and ability to manage an apartment community and achieve owners' investment goals. This course is recommended for multifamily professionals with strong financial backgrounds and those ready to take the next step in their careers.
2022 CAM Slam Program Dates (These classes will be held via Zoom meeting): October 17-21 (All dates required)

CAM allows professionals to expand their expertise in the following areas:
Occupancy rates
Comprehensive marketing plans
Sales team management and product readiness
Equitable treatment of current and potential residents
Resident retention and the maintenance of a positive company image
Consistent and ongoing resident communication
Positive resident service and issue resolution
Enforcement of company policy in compliance with laws and regulations
Property inspections
Preventive maintenance programs
Service request process
Apartment turnover process
Contractors and vendors
Recruitment, hiring, orientation, and training of high-caliber employees
Systematic employee evaluation
Analysis of the property's financial operations with corrective actions for underperformance
Monitoring of property performance to achieve the owner's investment goals
Employment regulations and record-keeping
Accounting principles and practices
Maximizing net operating income
Reporting property performance honestly and accurately

CAM candidates must complete the coursework and exam within 6 months of declaring candidacy. A minimum of 12 months of onsite property management experience is required.
Take this CAM Self-Assessment tool to see whether you are ready for CAM.


CAM SLAM Instructor: Charlotte Pisciotta, Vice President of Full House Marketing, Inc.
Each year, the Anthony G. Gorup Education Foundation grants scholarships to multifamily professionals seeking to take their careers to the next level. Click here to learn about and apply for the 2022 CAM scholarship.