Buyer's Guide
Save time and receive the best quote possible by buying from IAA-vetted associate members.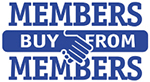 This online buyer's guide is an essential tool for your property. Search for vendors and service professionals and connect with a specific contact committed to ensuring you receive the best possible product or service. Thank you for supporting IAA associate member business!
Interested in joining IAA to receive great member benefits including a listing here? Apply online or contact us!


When viewing as a List (see far right to choose Category or List view) be sure to click the yellow "Filter" button below to narrow down your search. Use the "Clear Filter" button to reset your search.
More results may be available to logged in members.
Login