CAPS Certification
Certified Apartment Portfolio Supervisor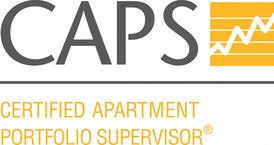 Earning a CAPS designation is enhances professional careers in the property management field. This credential may contribute to career advancement and corresponding earning potential.
2022 CAPS Express Program Dates (These classes will be held via Zoom meeting): July 26-28 (all dates required)
* Please note, this course is an accelerated course of the CAPS certification.
Register for the 2022 course here.


Experienced staff can capitalize on their professionalism and resources by expanding their knowledge in the following areas:
Recruiting high-performing employees
Employee performance, engagement, and retention
Minimizing conflict through stakeholder communications
Ethical behavior and conflicts of interest
Annual operating budgets and owner performance objectives
Property and portfolio results
Due diligence process
Property takeover process
Capital improvement plans
Managing risk through inspections, follow-up procedures, and incident reporting compliance
Minimizing legal risk and liability
Regulatory agency oversight of assisted housing
Analyzing property performance data to inform action
Management agreements
Evaluating and reporting property performance using key performance indicators

To earn the CAPS certification, students must complete the coursework and pass the exam within 6 months of declaring candidacy. Minimum experience requirement of 24 months in multi-site property management or be a CAM, ARM, RAM credential holder in good standing.
Instructed by: Angie Atkins, Senior Director of Operations at the Garrett Companies